Recent Auction: Auction 50: Fine Ancient Artifacts
Sunday, May 22, 2016 A.D. at 10:00 AM PST. View the Auction Unsold Lots HERE!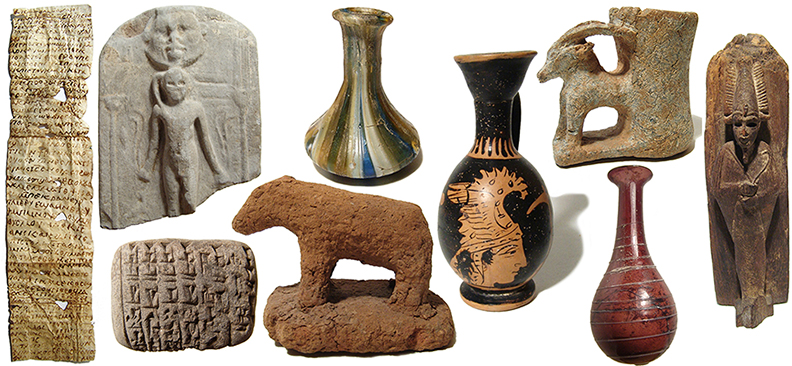 This auction is one for the record books! This sale features some remarkable collections of high quality
ancient Egyptian, Greek, Roman, Near Eastern, Holy Land, Asian, and Pre-Columbian artifacts.
We are proud to present for the first time a selection deaccessioned from the California Museum of Ancient Art (Lots 63 through 96).
The California Museum of Ancient Art is de-accessioning lots to raise funds for the museum's Ancient Art Acquisition Fund
The museum was founded in 1983 to gather the first collection focusing exclusively on the Ancient Near East in Southern California.
Representing the geographic regions of Egypt, Mesopotamia and the Levant from approximately 3500 BC to 500 AD, the museum's goal is to
tell the stories of the peoples of the Ancient Near East and their cultures and to promote a better appreciation for the roots of Western Civilization.
Among our most historically important offerings is an ancient vellum apocryphal Letter of Jesus to Abgar, King of Edessa
Excerpt: "The letter of Jesus Christ Son of God to Abgar, the king of Edessa...It is I, Jesus. I am the one who wrote this letter with my own hand..."
Date of Manuscript: 7th-8th CE. Though the letter claims to have been written by Jesus, an anonymous author likely composed the original
sometime in the third century CE. Auction lot 102 (Shown at left in the photo collage above)
VIEW THE AUCTION UNSOLD LOTS HERE!
View the Catalog on Invaluable!
View the Catalog on Liveauctioneers!